November 2021
Giovanni Pinosio's rising sculpture is a hymn to loving each other.
Concept:
Giovanni Pinosio
Descrizione:
Series " A thread of Voice"
H140 x L160 x P105 cm; excellent condition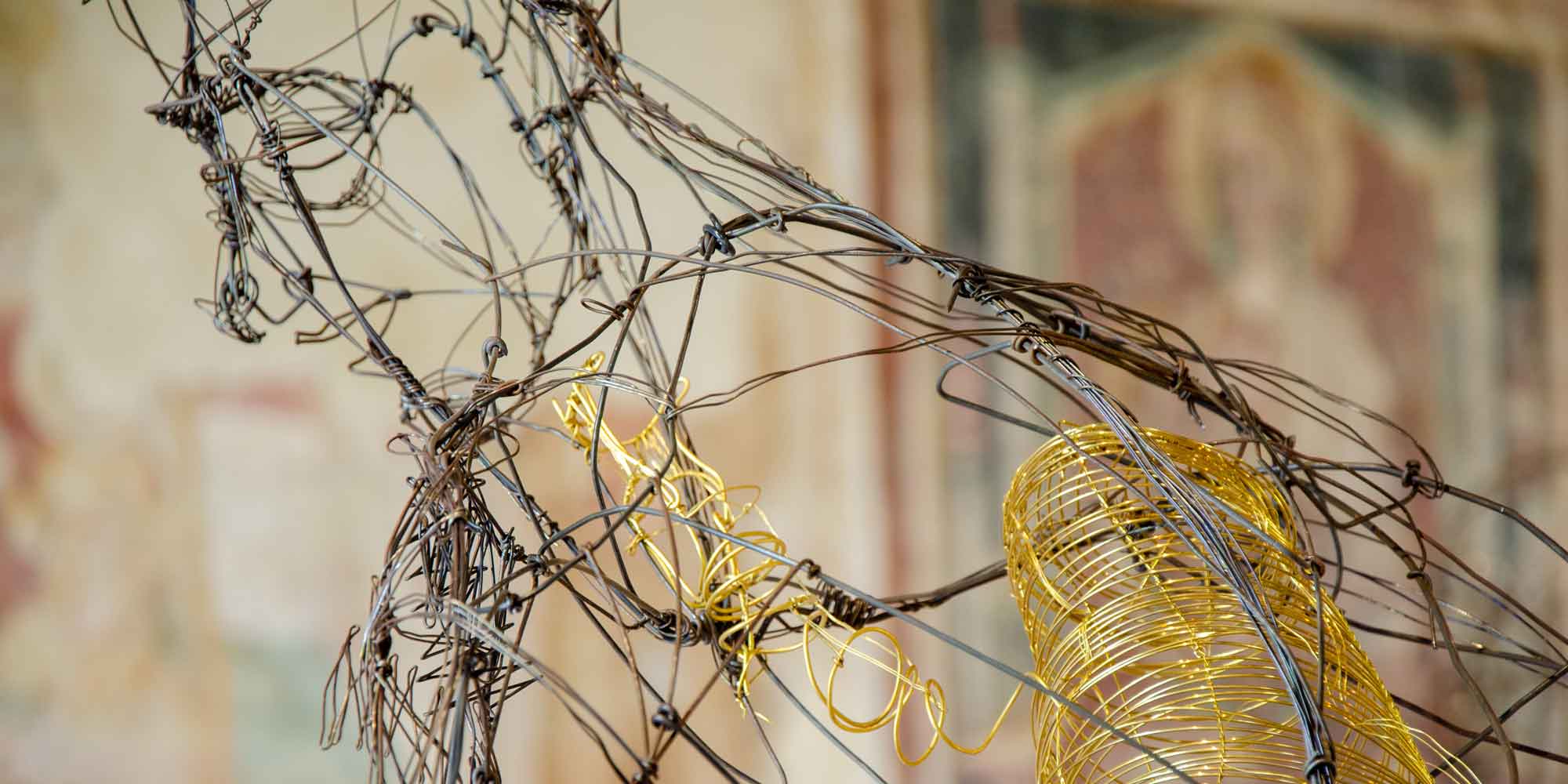 The work "Resilient" by the Venetian Giovanni Pinosio, known as "the artist of the intertwined iron wire", was created for the exhibition "A thread of voice" held in 2019, curated by Visioni Altre, at the Oratory of Santa Maria Assunta, Spinea (Venice).
The thread creates the void, which for the artist is a voice, an impalpable and invisible element.
In this sculptural research where voice and void are the supporting hinges of the installation system, Pinosio inserts some organic elements in brass wire, in order to highlight those organs of the body in which air transmutes into voice, such as the trachea, the larynx and lungs.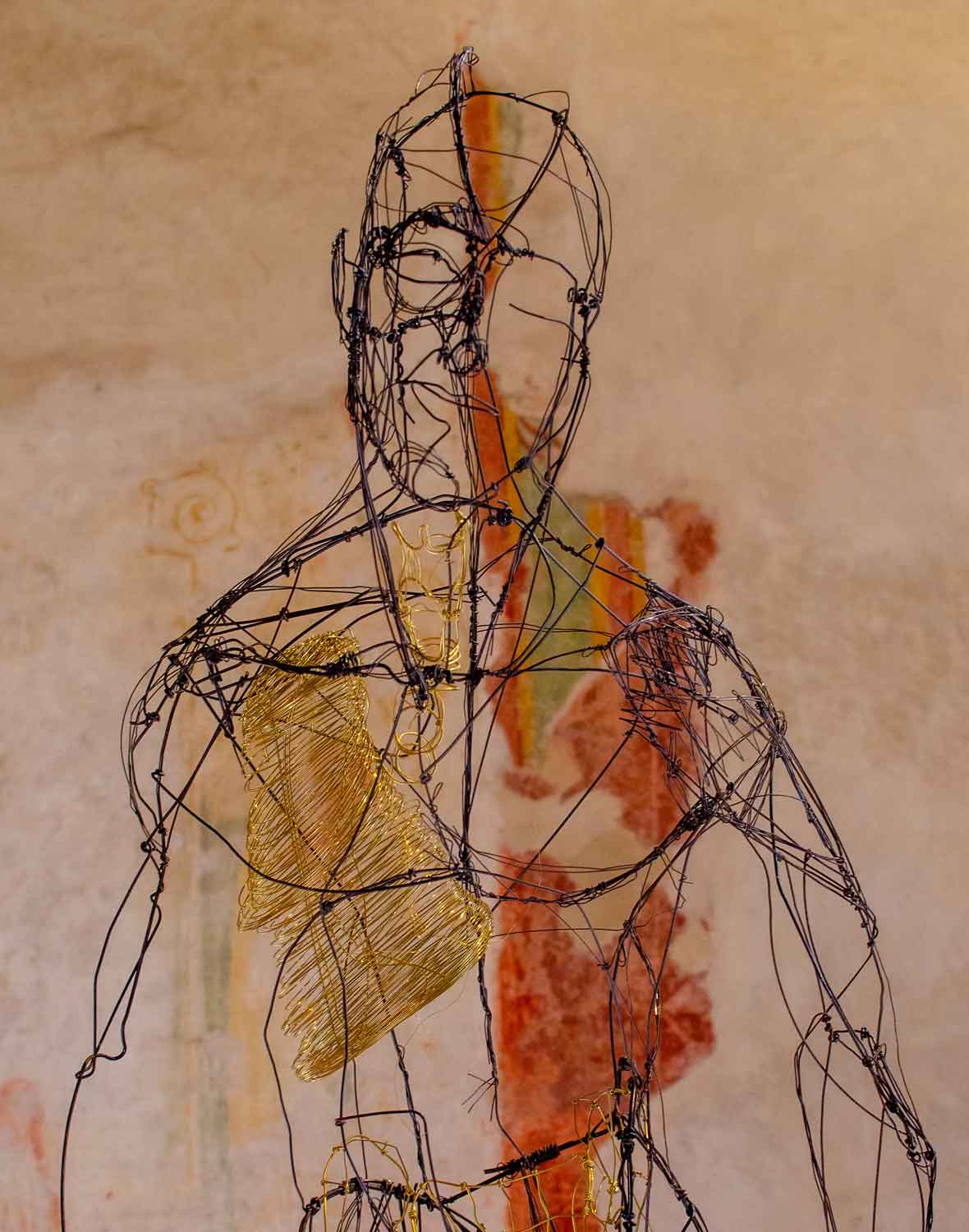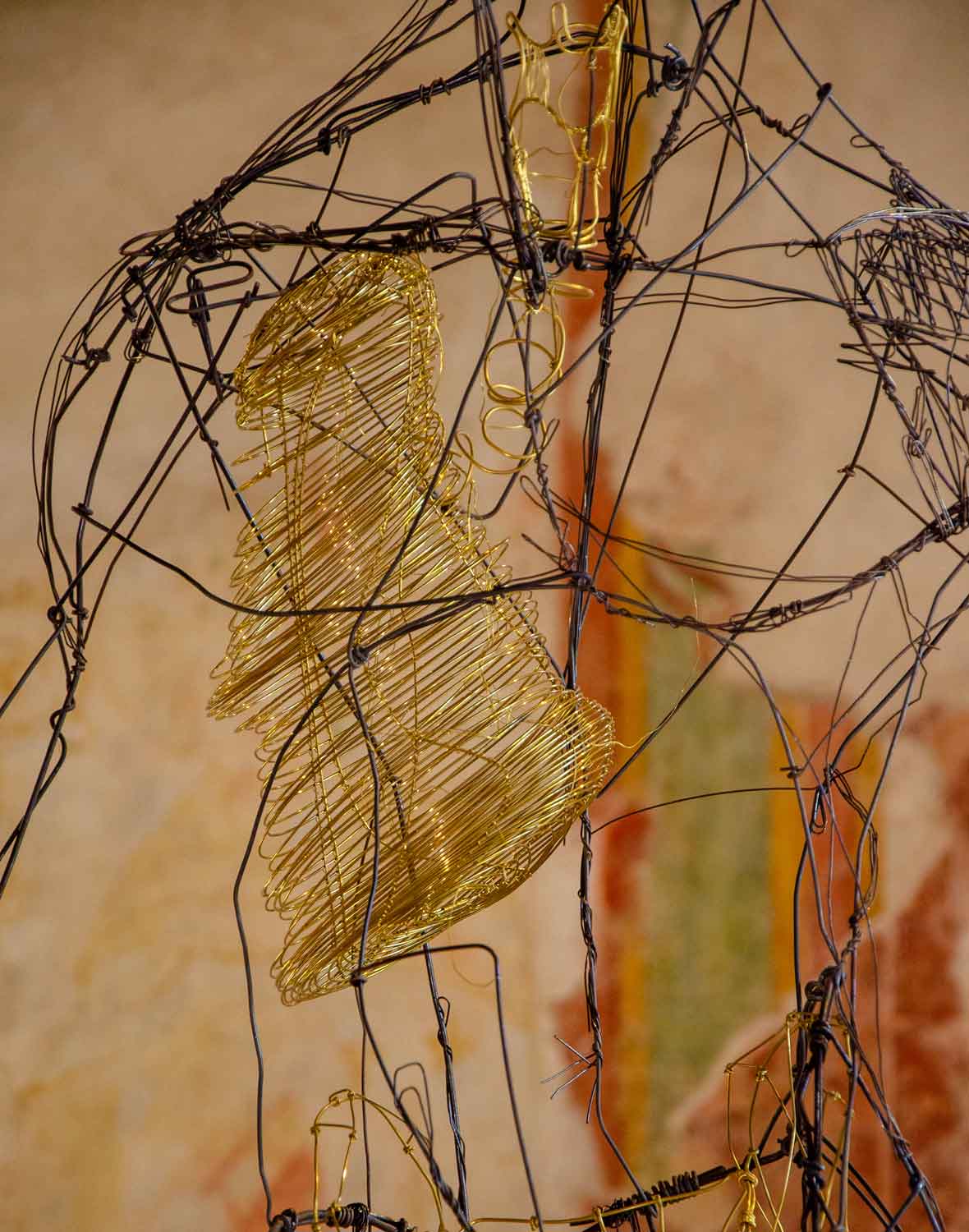 "Resilient is a traveler, or rather a singer, who gets up and sets out in search of himself and his own voice".
Giovanni Pinosio
Class of 1991, Pinosio during his studies he deepened the anatomical drawing, which he then made three-dimensional by applying it to sculpture and using iron wire. The choice of this material, strong and delicate at the same time, falls in its excellent function as a connector between drawing and sculpture and vice versa. Intertwined, almost ethereal, these bodies seem created by the imagination itself to interact with the space that surrounds them as vibrant sounding boxes for a story in the making left on our path.  A path that Resilient internalizes: the image of the traveling artist who searches for himself in his own voice, whose structure is the "thread", gives us a precious representation of the world as an extension of ourselves and the revelation of an inner beauty that is still unexplored. The inside of the brass body reflects a golden light that, despite adversity, remains lit and guides us through new spaces with a renewed spirit and a vital impulse capable of getting up and freeing us from all conditions, always and in any case.
Resilient is an elegant and refined indoor sculpture. The work is very light and can be placed wherever you want. Signed with wire by the artist.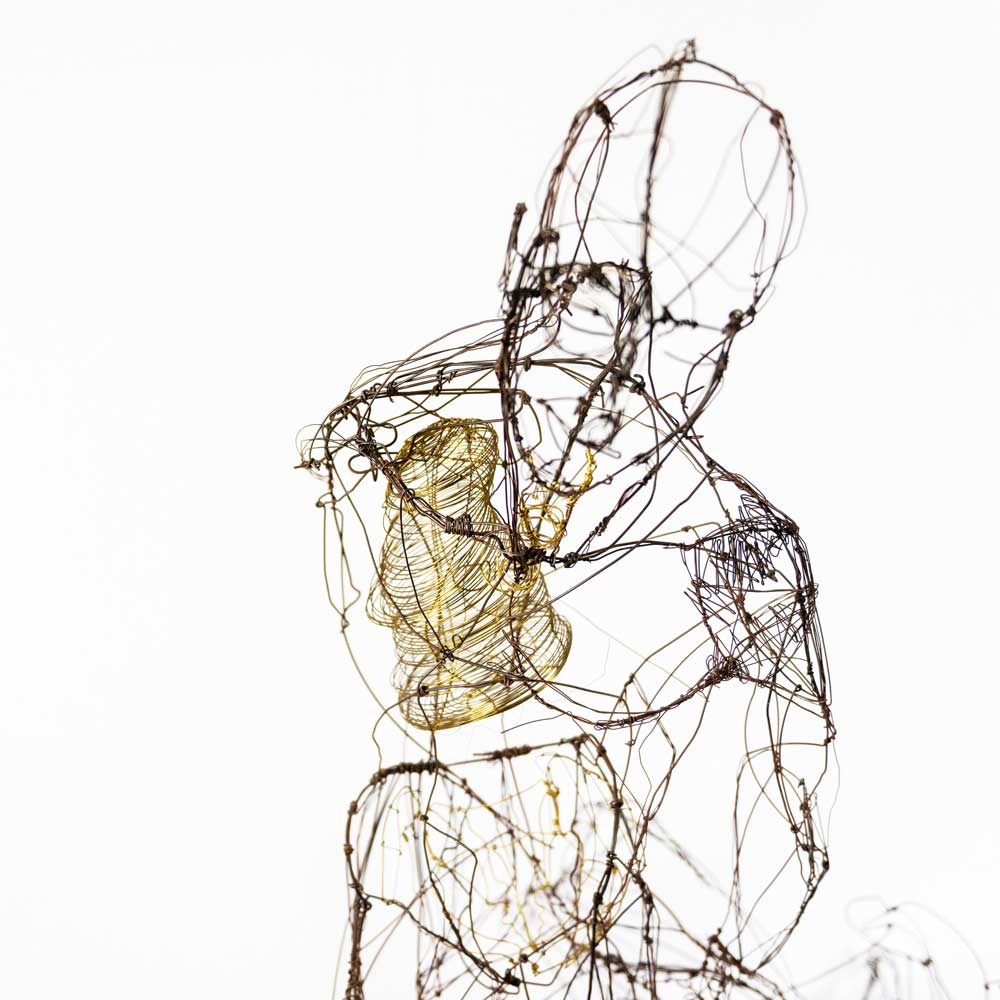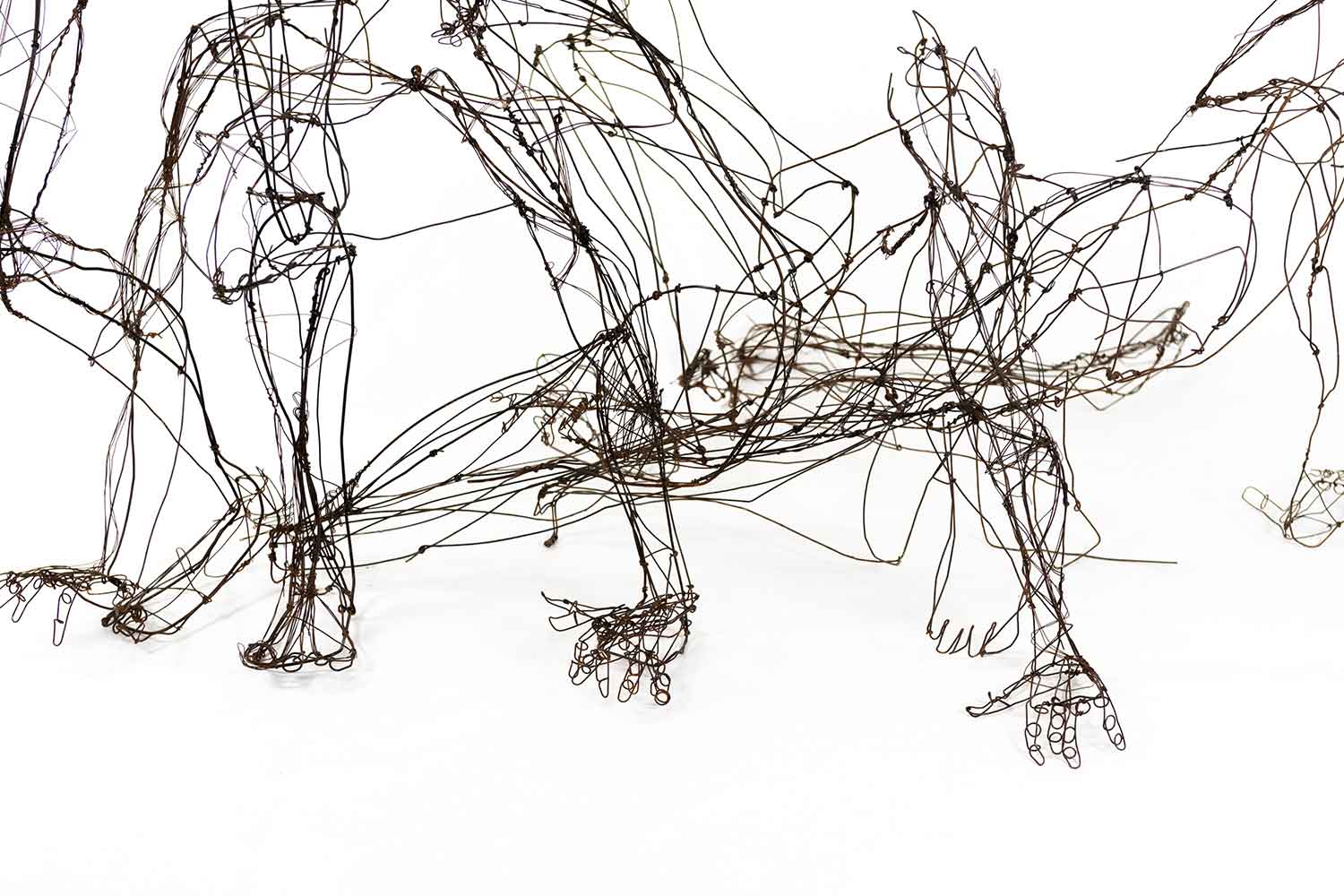 "Only by stripping the body of its shell of flesh and muscles can I listen to its voice and dance with it".
Giovanni Pinosio
For more information on the presented product fill out the form, we will contact you as soon as possible.
Resilient
Contact form
Fill out the form for more information. Thank you, we will get back to you as soon as possible.
---
It might be of interest to you