Interview with Giovanni Pinosio
First protagonist of the traveling art project "Artista a Bordo"
First protagonist of the traveling art project "Artista a Bordo"
Riccardo Benedini
March 2023
March 2023
The Venetian sculptor talks about himself on board the gulet Lycian Princess where, on the occasion of the 2022 Art Biennale, he set up with his traveling exhibition "Allegory of the Sea".
THE INTERVIEW
Hello everyone and welcome to Lycian Princess. My name is Riccardo Benedini and I offer the opportunity to artists, designers and creatives to tell their story through short interviews at sea. Moored in the marina in Sant'Elena, exactly behind the Giardini della Biennale of Venice, this 30-meter Turkish gulet is now home to Giovanni Pinosio, a Venetian sculptor who on April 20th inaugurated his itinerant installation "Allegory of the Sea", sailing in San Marco basin with more than 30 guests.
Hi Giovanni and welcome.
Hello Riccardo, thanks.
You are the first artist on board and everybody knows you as the "Decorator of the imaginary". However, where does this appellation come from?
Well "Decorator of the imaginary" is actually a nickname that was given me not too long ago, but I think it effectively describes my poetics, my way of making sculpture. In fact, most of the sculptures I create start from the visualization of a real, physical but also imaginary space, which actually suggests precisely the subject I am going to represent and that will inhabit that space. I like the idea of furnishing the space and thus involving the viewer with my vision.
You graduated at the Academy of Fine Arts in Venice. Tell us about your artistic path. What brought you closer to iron wire sculpturing?
Yes, I graduated from the Academy in sculpture in 2017. During my training years I took refuge in particular in the sculpture atelier and in the laboratory of artistic anatomy and from the study of these two disciplines, from their fusion, my artistic language was born: wire sculpture, because I started translating the drawings I made in the anatomy laboratory into three dimensions. The graphite mark became metal wire, which allowed me to draw in space and then subsequently to abandon the two-dimensional sheet.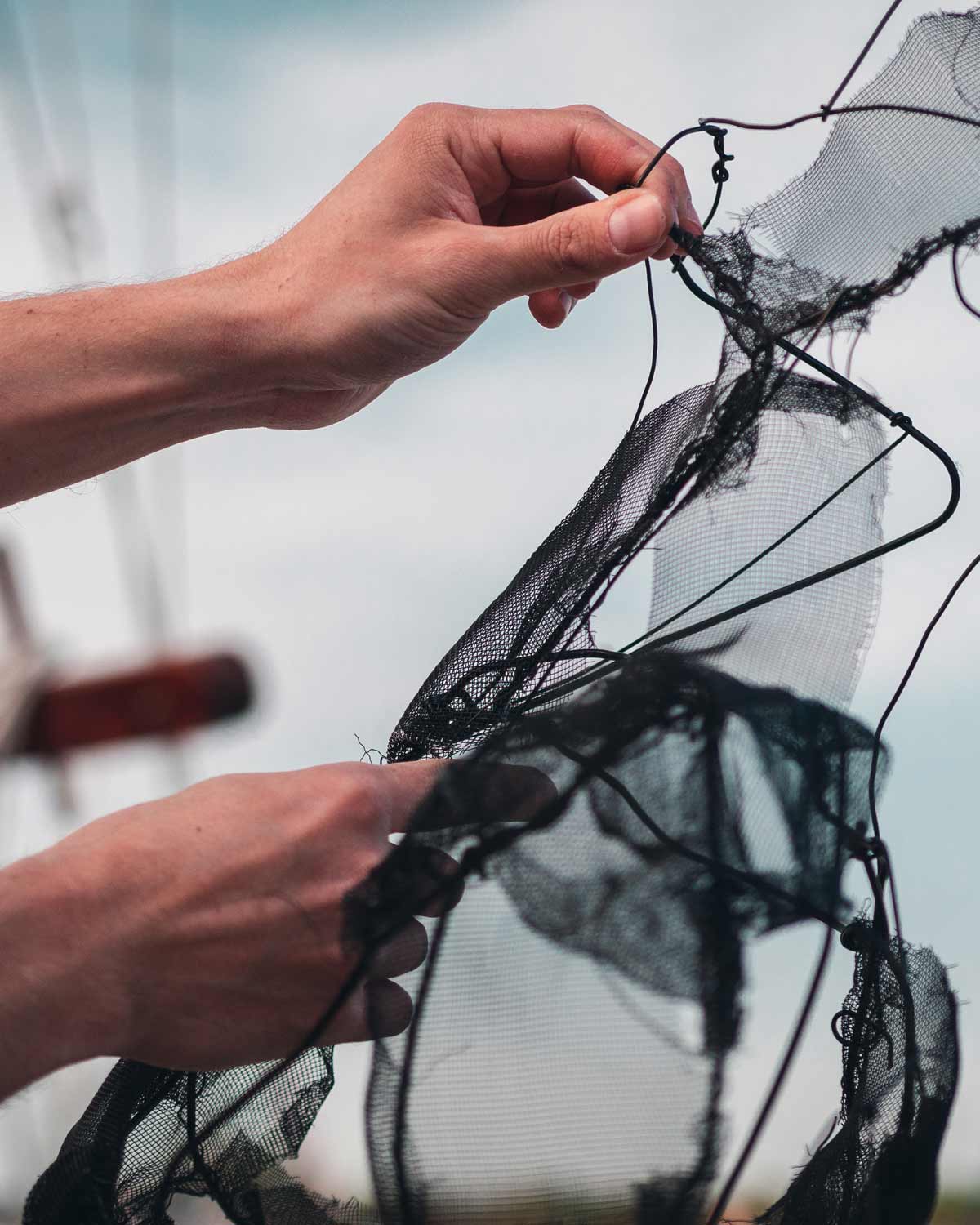 "Working with wire fascinates me for what arouses in me: reflection, waiting, the silence, the relationship, the plot but above all the musicality of a line that is worked in a harmonious and continuous way". Giovanni Pinosio
"Allegory of the Sea" is the name you chose for this group of sculptures with which you set sail on April 20. But tell us what they represent.
"Allegory of the Sea" is a trilogy of works that I have made between 2014 and 2015 which then remained there in the laboratory. I tell you the truth, I had forgotten them. The sea is as if it had given them back to me and I had to put my hands back on them, of course, and bring them to a new life for this occasion. They represent lovers, contemplatives, caught in their emotional expressions that change from day to day. Because the great thing about this installation is that it is never the same. The installation and the human figures, in fact, can be moved and experience different spaces inside the boat. A little bit like emotions and like the sea.
However, in the past you defined yourself "responsible for the happiness for the space you furnish".What did you mean by that?
I meant that I take a lot to heart and care a lot about the balance that is created between space and sculpture. For me, happiness of space consists in "not covering it", but in respecting it and the metal wire allows me to do just that: to create a light and empty sculpture within and, inside, to make the space in where it is placed come alive. It is not a sculpture that covers space in an overwhelming way, but the space and the sculpture become co-present.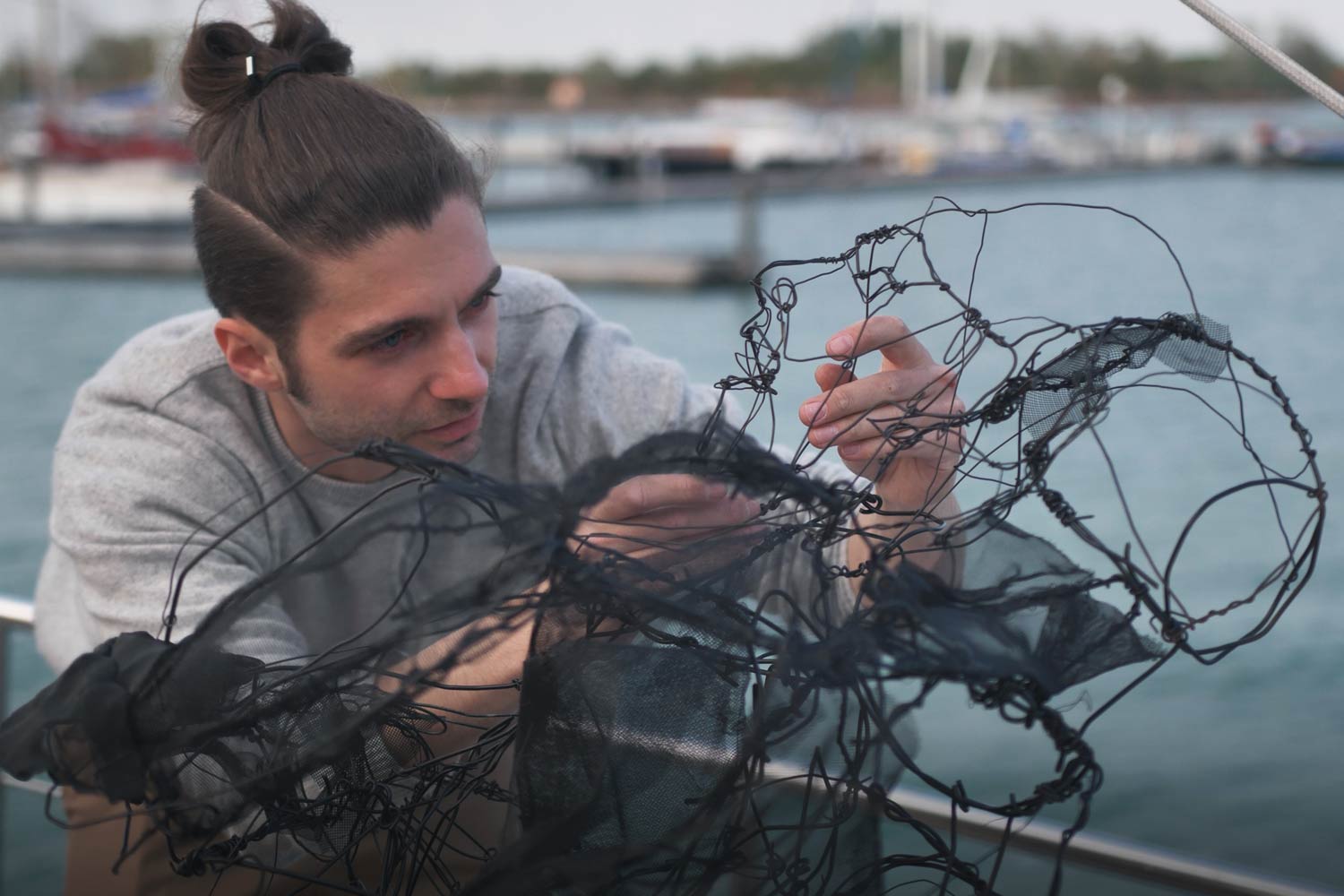 How do you feel sailing with your works in the San Marco basin?
For me it was an emotion and is an emotion. It was really exciting. I also believe that it is a unique opportunity, in a suggestive, unusual context. I believe that my sculptures managed to dialogue with the background of the San Marco basin, because this reflected the principles of my artistic research. A very beautiful and exciting moment for me was seeing the Academy of Fine Arts among the threads of sculpture, therefore in its emptiness, which is precisely the place where this language was born.
Thanks to this installation, we got to know your body sculptures, but your interpretation of the objects of our daily life is also unique. I am talking about a typewriter, a pendulum clock, a chair… which rebel against their own functionality and become works of art. Tell us a little about where this idea came from.
Parallel to the realization of the bodies, I have been making a collection of objects for some time. They are everyday objects that fascinate me for their lines, for their history, because each object tells its own story. And they are objects that I define as "timeless", in the sense that, using them, they take us to another dimension, they lead us to reflect on ourselves and to lose ourselves. The idea came to me from the visualization of an empty room, a white room that asked me to be furnished with this wire.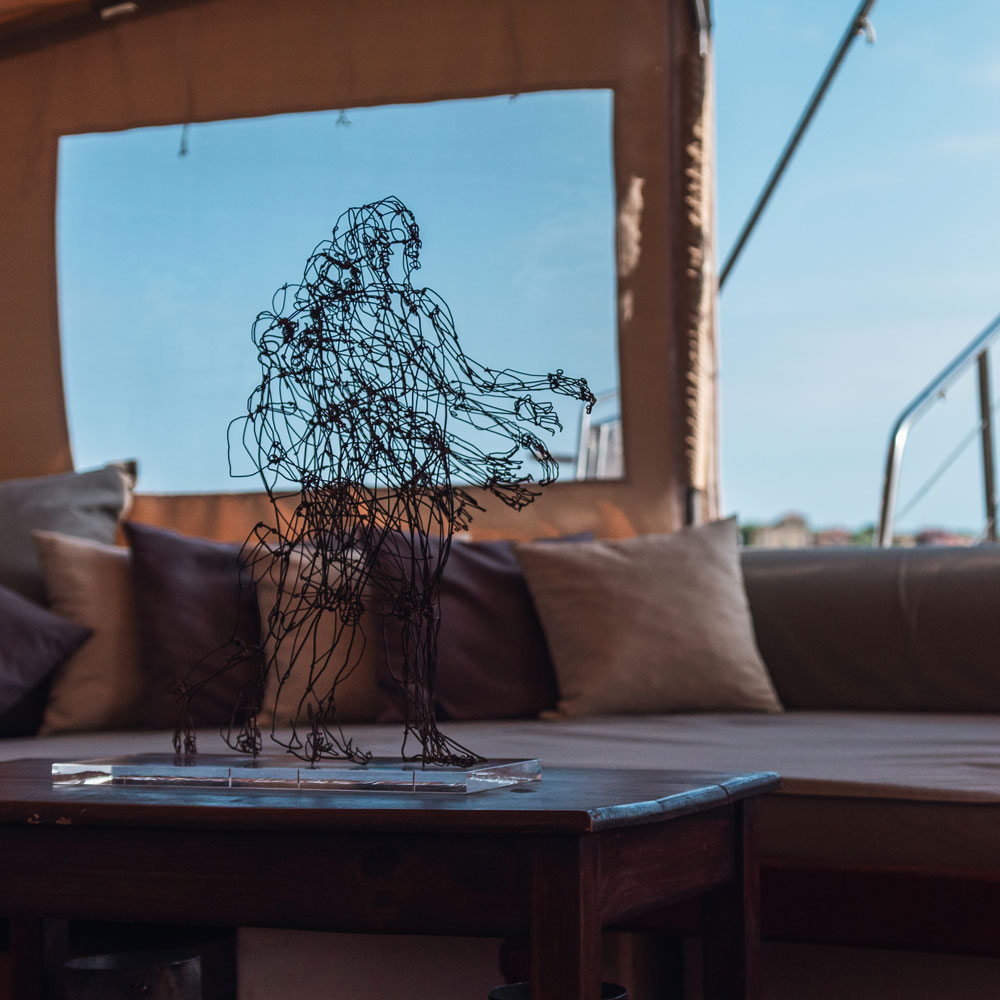 Beyond this path as a sculptor, I know that for many years, you have cultivated a passion for singing and we can say that you caress reality with two very different languages and approaches, therefore touch and voice. Is there a boundary between these two approaches and between these two worlds?
Well yes .. Singing and voice are a passion that I have been following for some time. Actually, it was precisely the voice that led me to the iron wire sculpture. Because my artistic research began by investigating the concept of lightness, which was a word I often heard during my singing lessons. "Giovanni no, it lightens the sound", my teachers told me and I wanted to explore this concept also in sculpture, removing all those materials that were heavy for me: clay, plaster, resin. I realized that, by removing this material, there remained the core that supported the clay, the core of iron and wire. Therefore, I started drawing with that material. Furthermore, the voice is placed on a certain boundary between material and immaterial. It comes from a body that is matter, but immediately becomes elusive, impalpable. How I want my sculpture to be.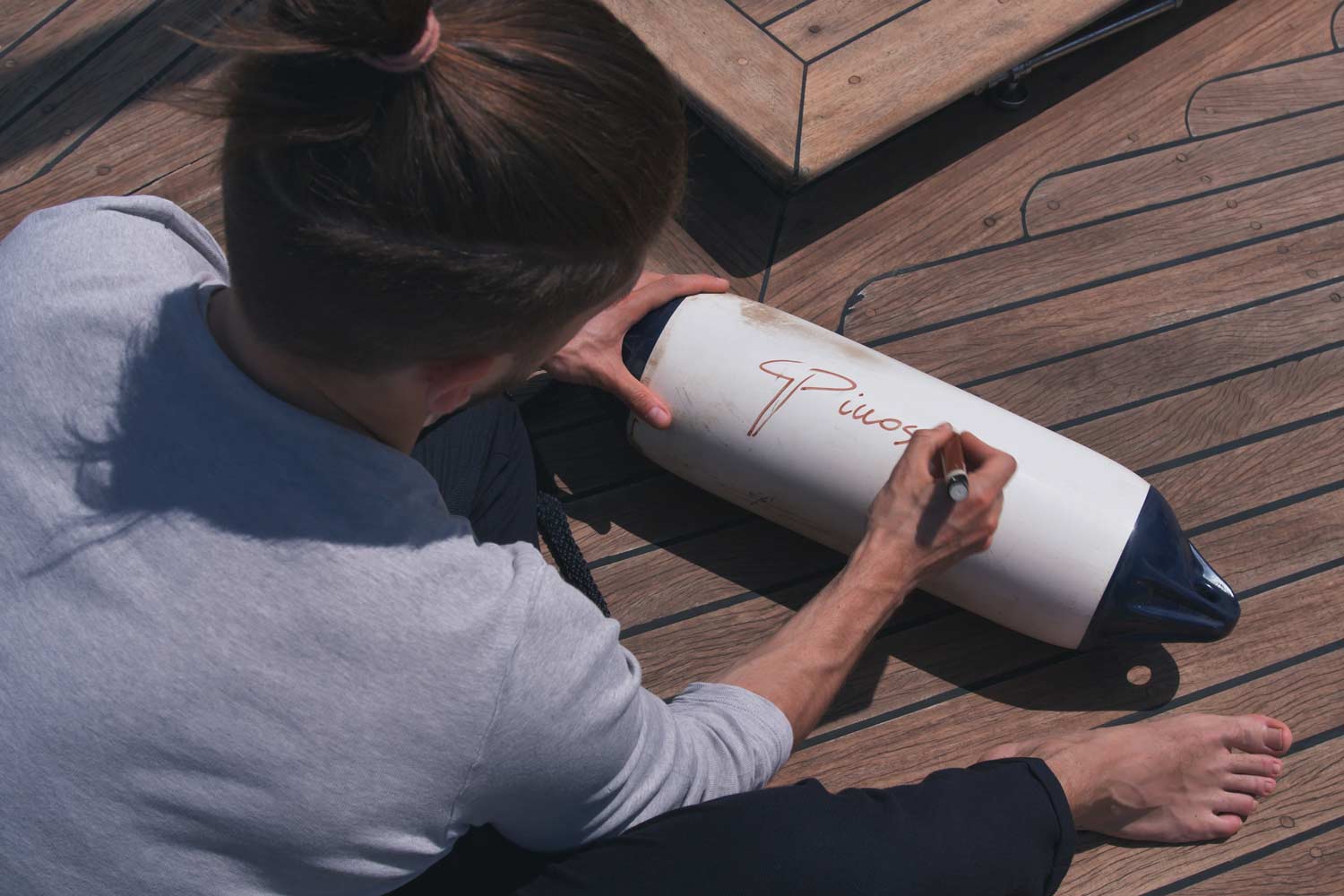 At the end of the month you will conclude this experience at sea and I know that you are busy setting your works and objects in ever-changing landscapes and spaces of the Italian panorama, giving life to short films. Tell us where we can find you.
Yes, now I'm finishing up my production of objects and then going back to working on bodies. However, every object and every human figure that I will create will be told through a short film, a short video, a short story to give even an extra stimulus to the viewer. Surely, you will see me with an object that will come to life inside a Venetian villa, then I will return to Venice with another installation. Then I won't tell you anything else. Follow me!
We hope to have you for the Film Festival here on board and in the meantime thank you for your time and for the emotion you gave us with your installation!
Thank you.
For more information on my story, fill out the form, I will contact you as soon as possibile.
Interview with Giovanni Pinosio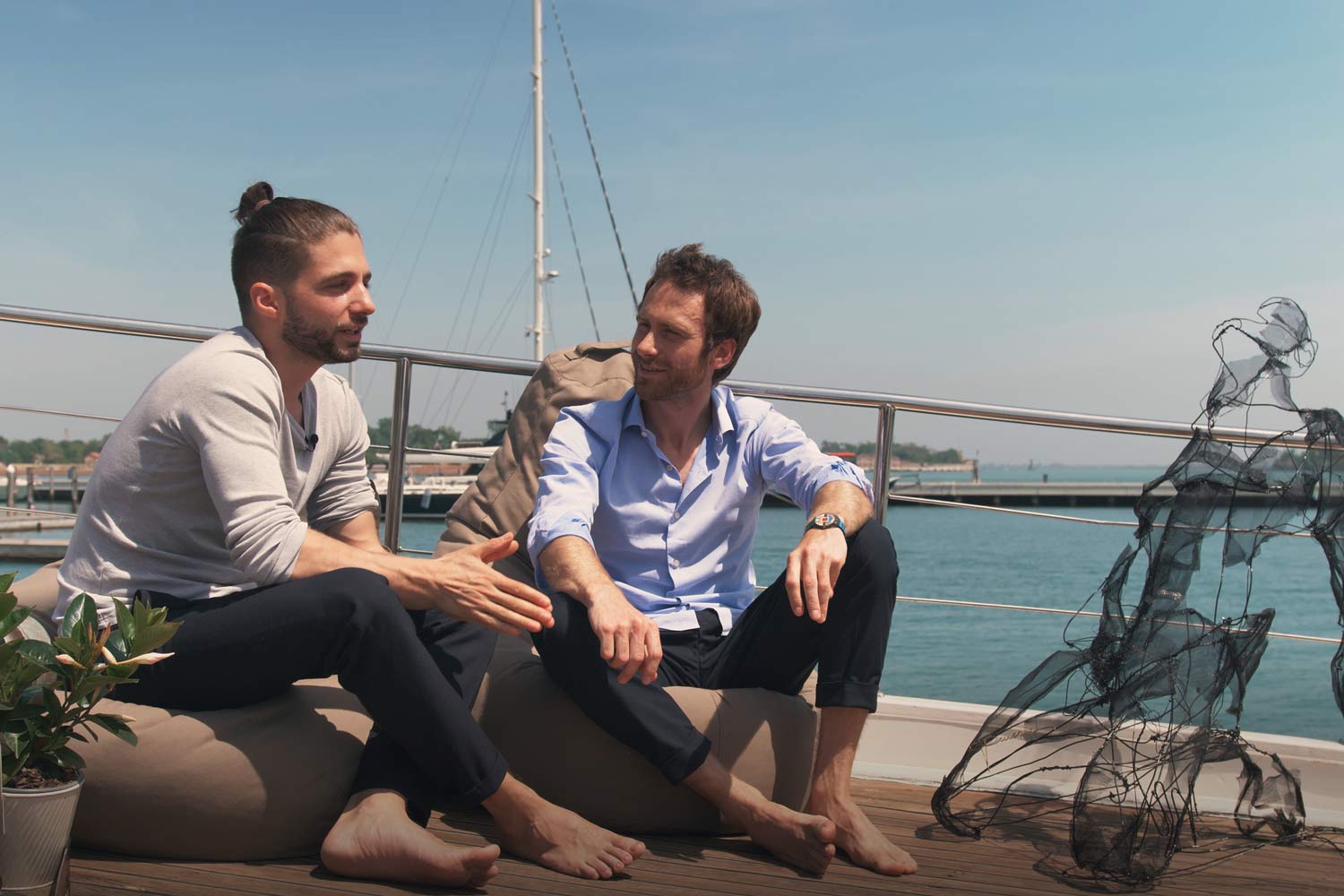 Contact form
Fill out the form for more information. Thank you, we will get back to you as soon as possible.